Holiday Accommodation in Mildura
Affordable Holiday in our Resort Style Mildura Holiday Accommodation
Quality Resort Inlander Mildura offers refreshing atmosphere with shades of palm trees and full recreational resort facilities to maximize your relaxation for a great holiday with your family and friends. Enjoy affordable holiday accommodation in Mildura in one of our 83 guest rooms which provide the ideal place for relaxing with close proximity to the Mildura City and Mildura CBD. Our resort hotel provides comfortable and well equipped guestrooms where you and your family can enjoy FREE Wireless Internet access and stay connected to work and friends, 2 FREE Movie Link Channels & AUSTAR on LCD TV while you relax after a day out. Enjoy FREE Continental Breakfast before you start the day as well as the convenience of FREE Parking.
Affordable Holiday Accommodation in Mildura
Select from Superior Rooms, Deluxe Rooms, Spa Apartments & Presidential Suite
We have recently refurbished our rooms and all rooms have been repainted, with new curtains and carpets, upgraded linen. We have also upgraded our bathroom in the Superior Rooms and Executive Spa Apartments. Bathrooms have also been fully renovated in the Deluxe King Rooms. All rooms come with LCD TV with AUSTAR TV, 2 FREE Movie Link Channels, tea and coffee making facilities, hairdryer, ironing equipments, reverse air conditioning and heating for your comfort and ensuite bathroom. For the ultimate holiday experience, pamper yourself and stay in our Deluxe Spa Room, Executive Spa Apartments or upgrade and enjoy the luxury and comfort of our Presidential Suite for a romantic getaway or honeymoon experience.
Mildura Holiday Resort Facilities
Business & Full Resort Recreational Facilities
Quality Resort Inlander Mildura provides the combination of work and leisure faciltiies. We have two meeting/conference rooms for hire complete with basic equipments and faxing facilities. There is no reason why you can't relax after work. Dip into the outdoor swimming pool or sunbath on our upgraded poolside furniture. Enjoy a cold drink in the summer under our large all weather umbrellas. You can have a great family holiday with kids with the pool and children's playground, know that your kids are safe around the pool with our newly added pool fencing.
Quality Resort Inlander Mildura also has BBQ facilities under our upgraded gazebos for a great holiday gathering with your family and friends.
Have a friendly game of tennis and find out who can serve the most aces or play doubles!
Don't worry about cooking on your holiday getaway as our onsite restaurant allows the convenience of having lunch with your family without leaving the recreational facilities in our Mildura holiday accommodation resort.
Room service, dry cleaning / laundry services are also available to cater to ensure that our guests stay relaxed and enjoy their holiday.
Grab a drink with your mates or mingle with your family at our resort bar & lounge.
Quality Resort Inlander Mildura offers value-for-money holiday accommodation close to Mildura City & CBD plus centrally located to Adelaide, Melbourne and Sydney.
There are wineries, international standard Mildura Golf Course, Mildura Private Hospital, Mildura Base Hospital, river cruising Paddle Steamers, Mildura Center Plaza, McDonald's and much more in close proximity. Enjoy the convenience of Quality Resort Inlander Mildura – the ideal Mildura Holiday Accommodation location.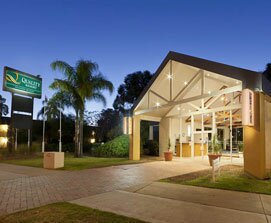 Holiday Accommodation in Mildura
– Outdoor Swimming Pool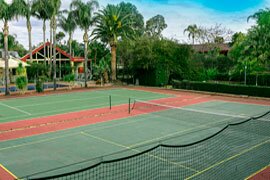 Holiday Accommodation Mildura
– Tennis Courts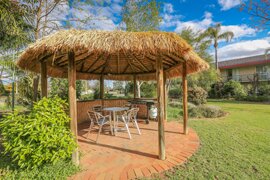 Holiday Accommodation Mildura
– BBQ Facilities, Upgraded Gazebo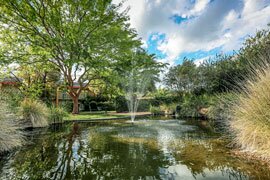 Holiday Resort Mildura
– Extensive garden works